Aloe Fleur de Jouvence Rehydrating Toner. Buy now!
Facial Skin Care. Rehydrating Toner.
• Tones and moisturizes the skin
• Alcohol-free formula
• Contains Aloe Vera, Witch Hazel, plant extracts and Collagen
2012 products design: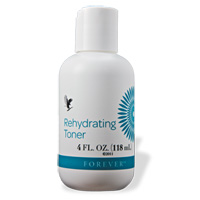 Rehydrating Toner is a non-drying, alcohol-free formula, that contains natural Aloe Vera and Witch Hazel, together with special skin moisturizers and plant extracts for toning. It also contains Collagen and Allantoin for cell conditioning.
Rehydrating Toner is a gentle preparation used to remove the last traces of cleanser, makeup, impurities and dull, lifeless surface cells, thus providing good secondary cleansing and toning to reduce pore size. It removes residual oils and dirt while invigorating the skin and leaving it clean, smooth, balanced and stimulated. Circulation is enhanced and rehydration is encouraged as the skin is gently refined.
Aloe Fleur de Jouvence® Rehydrating Toner Ingredients: Aloe Barbadensis Gel (Stabilized Aloe Vera Gel), Water, Hamamelis Virginiana (Witch Hazel) Water (Non-Alcoholic), Propylene Glycol, Soluble Collagen, Hydrolyzed Elastin,Citrus Medica Limonum (Lemon) Extract,Cucumis Sativas (Cucumber) Extract, Equisetum Arvense Extract, Anthemis Nobilis Flower Extract, Rosmarinus Officinalis (Rosemary) Extract, Sodium PCA, Sodium Lactate, Triethanolamine, Allantoin, DiazolidinylUrea, Disodium EDTA, Methylparaben, Menthol, Fragrance.
CONTENTS: 4 Fl. Oz. (118 ml)
DIRECTIONS: Using a cotton ball, apply Rehydrating Toner in an upward motion every morning and evening.Continue until no further discoloration of the cotton ball is evident. Your skin will feel clean and conditioned, with tightened pores, for a smoother appearance.
Now you have two choices to make:

Buy Aloe Fleur de Jouvence Rehydrating Toner at Aloe Vera & Forever Living Products Retail Store as a Retail Customer.
---
Join Forever Living Products for free as a Independent Distributor and buy Aloe Fleur de Jouvence Rehydrating Toner at wholesale rates! (BUY DIRECT AND SAVE UP TO 30%) To join FLP team you will need my Sponsor ID: 001002337815  (Why? Click here!)
For additional Aloe Fleur de Jouvence Rehydrating Toner information and ingredients, select the PDF link below.
Our skin is the front line defense in our daily fight against pollution and other environmental irritants, so we need to protect and reinforce it with extra care. Aloe vera, whose most traditional use as a natural remedy is to soothe the skin, is an ideal defense. We have designed unique and varied products that work naturally by moisturizing and providing essential nutrients and vitamins to the skin. Our skin care products can help protect the skin against the environment's harsh effects, and are reinforced with the International Aloe Science Council Seal of Approval.
toner
,
Rehydrating Toner
,
Contents
,
Forever
,
moisturizers
,
video fleurtag
,
aloe vera gel
,
water
,
dirt
,
rally
Go to
Aloe Vera
- Home Page.
---
Keep up to date on
Aloe Vera and FLP issues
using RSS (Really Simple Syndication). If you enjoyed this post, make sure you subscribe to Our RSS feed!
Possibly Related Posts and Articles (automatically generated)
Loading ...

Please leave us a review or comment, we value them.