Exfoliating Cleanser. Buy Aloe Fleur de Jouvence Aloe Cleanser.
Facial Skin Care. Shop Aloe Fleur de Jouvence Exfoliating Cleanser now!
• A gentle, mild cleansing lotion
• Perfect for removing facial and eye makeup
• Contains Vitamin C
• Hypo-allergenic
Exfoliating Cleanser is prepared from hypo-allergenic ingredients to create a light, non-greasy, non-irritating lotion that is pH and moisture-balanced. It is fast and thorough in removing makeup, dirt, and other invisible skin debris. Use it as the first step in preparing your skin for a full Aloe Facial, or simply in the daily, routine skin care program of our Aloe Restorative Beauty Regime. Exfoliating Cleanser contains just the right amount of Jojoba Oil and water to leave your skin feeling fresh and thoroughly clean without drying!
2012 products design: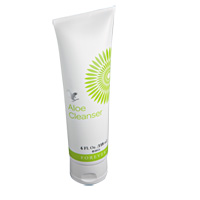 Exfoliating Cleanser Ingredients: Aloe Barbadensis Gel (Stabilized Aloe Vera Gel), Water, Hydrogenated Polyisobutene, C12-15 Alkyl Benzoate, Glyceryl Stearate, Cetyl Alcohol, Butylene Glycol, Disodium Cocoamphodiacetate, PEG-100 Stearate,Diethylhexyl Adipate, Ethylhexyl Stearate,Ethylhexyl Palmitate, Simmondsia Chinensis (Jojoba) Seed Oil, Triethanolamine, Carbomer,Xanthan Gum, Allantoin, Ascorbic Acid (Vitamin C), Dimethicone, Disodium EDTA, Diazolidinyl Urea, Methylparaben,Propylparaben, Fragrance.
CONTENTS: 4 Fl. Oz. (120ml)
DIRECTIONS: With your fingertips, slowly spread several drops of Exfoliating Cleanser across your entire face and neck area, using a smooth, circular motion. To remove makeup, dirt and dead skin debris, gently wipe away with a dampened cloth or tissue, leaving the skin feeling clean, soft and supple. Follow with the Rehydrating Toner if desired.
Item #043
10.95 USD
Price per unit – 4 fl. oz. – 15 per case
Now you have two choices to make:

Buy Aloe Fleur de Jouvence Exfoliating Cleanser at Aloe Vera & Forever Living Products Retail Store as a Retail Customer.
---
Join Forever Living Products for free as a Independent Distributor and buy Aloe Fleur de Jouvence Exfoliating Cleanser at wholesale rates! (BUY DIRECT AND SAVE UP TO 30%) To join FLP team you will need my Sponsor ID: 001002337815  (Why? Click here!)
For additional Aloe Fleur de Jouvence Exfoliating Cleanser information and ingredients, select the PDF link below.
Exfoliating Cleanser.pdf
Our skin is the front line defense in our daily fight against pollution and other environmental irritants, so we need to protect and reinforce it with extra care. Aloe vera, whose most traditional use as a natural remedy is to soothe the skin, is an ideal defense. We have designed unique and varied products that work naturally by moisturizing and providing essential nutrients and vitamins to the skin. Our skin care products can help protect the skin against the environment's harsh effects, and are reinforced with the International Aloe Science Council Seal of Approval.
exfoliating cleanser for women forever
,
vera
,
store
,
flp u tube
,
hispanic vitamins distributors
,
alcohol free exfoliator
,
Aloe
,
exfoliating cleanser forever
,
jojoba exfoliating cleanser
,
harsh effects
Go to
Aloe Vera
- Home Page.
---
Keep up to date on
Aloe Vera and FLP issues
using RSS (Really Simple Syndication). If you enjoyed this post, make sure you subscribe to Our RSS feed!
Possibly Related Posts and Articles (automatically generated)
Loading ...

Please leave us a review or comment, we value them.