Firming Foundation Lotion. Shop now! Firming Day Lotion.
• State-of-the-art skin care lotion
• Firms, moisturizes and nourishes the skin
• Tightens the pores
• Superb under eye makeup as a protective base
• Combination of vitamins A, C and E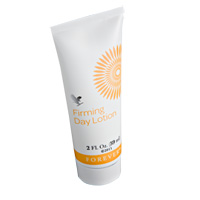 Firming Foundation Lotion is a state-of-the-art skin care lotion specially formulated for use in our Aloe Fleur de Jouvence beauty regime. Ideal for daytime protection against the elements, it combines the science of dermatology with the art of cosmetology to produce an effective product that reduces the signs of aging by helping firm the skin, retexture and tighten the pores, and to provide a protective foundation for makeup application.
To achieve these results, the lotion contains a blend of Aloe Vera and other special moisturizers, humectants and conditioners, together with the Collagen and Elastin needed to maintain good skin structure and prolong a youthful-looking appearance. It also contains a protective agent to help shield the skin from environmental elements such as wind and pollution, whose cumulative effects may jumpstart the signs of aging. Also contains vitamins A, C and E.
Aloe Fleur de Jouvence® Firming Foundation Lotion Ingredients: Aloe Barbadensis Gel (Stabilized Aloe Vera Gel ), Water, Propylene Glycol, Glyceryl Stearate, Methyl Gluceth-20, Stearic Acid,Glycereth-26, Tridecyl Stearate, PEG-100 Stearate, Sodium Hyaluronate, Soluble Collagen, Hydrolyzed Elastin, Sodium PCA,Sodium Lactate, Tocopherol (Vitamin E Natural), Squalane, Panthenol (Provitamin B5),Anthemis Nobilis Flower Extract, Retinyl Palmitate (Vitamin A Palmitate),Hydroxyethylcellulose, Triethanolamine,Carbomer, Ascorbic Acid (Vitamin C), Cetyl Alcohol, Allantoin, Diazolidinyl Urea,Disodium EDTA, Methylparaben,Propylparaben, Fragrance.
CONTENTS: 2 Fl. Oz. (59 ml)
DIRECTIONS: Gently massage lotion into the face and neck area. It also makes an excellent base for applying your favorite cosmetics from the Sonya Colour Collection.
Now you have two choices to make:

Buy Aloe Fleur de Jouvence® Firming Foundation Lotion at Aloe Vera & Forever Living Products Retail Store as a Retail Customer.
---
Join Forever Living Products for free as a Independent Distributor and buy Aloe Fleur de Jouvence® Firming Foundation Lotion at wholesale rates! (BUY DIRECT AND SAVE UP TO 30%) To join FLP team you will need my Sponsor ID: 001002337815  (Why? Click here!)
For additional Aloe Fleur de Jouvence® Firming Foundation Lotion information and ingredients, select the PDF link below.
2007-2011 year's image:

Our skin is the front line defense in our daily fight against pollution and other environmental irritants, so we need to protect and reinforce it with extra care. Aloe vera, whose most traditional use as a natural remedy is to soothe the skin, is an ideal defense. We have designed unique and varied products that work naturally by moisturizing and providing essential nutrients and vitamins to the skin. Our skin care products can help protect the skin against the environment's harsh effects, and are reinforced with the International Aloe Science Council Seal of Approval.
help
,
naturally
,
sonya colour collection
,
work
,
Firming Foundation Lotion
,
Contents
,
regime
,
skin
,
video
,
results
Go to
Aloe Vera
- Home Page.
---
Keep up to date on
Aloe Vera and FLP issues
using RSS (Really Simple Syndication). If you enjoyed this post, make sure you subscribe to Our RSS feed!
Possibly Related Posts and Articles (automatically generated)
Loading ...

Please leave us a review or comment, we value them.