Forever Royal Jelly – FLP Bee Products.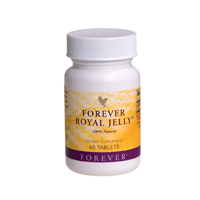 Item #036 (Forever Royal Jelly) 25.95 USD
Price per unit – 60 Tablets – 8 per case
Royal Jelly is a milky secretion derived from the pharyngeal glands of the honey bee. This "super food" of the bees is specially blended with enzymes and fed to each bee destined to become a queen. It is the exclusive food of the queen bee throughout her highly productive life, enabling her to lay up to 3,000 eggs! per day during her six-year lifespan..  Worker bees eating ordinary honey live only four to six weeks.
Royal Jelly contains vitamins A, C, D, and E and is also a rich natural storehouse of the B-complex vitamins..
A major ingredient is vitamin B5 (Pantothenic Acid), one of the most important substances in the body, essential for the synthesis and metabolism of proteins, fats, carbohydrates and several hormones. Royal Jelly contains all eight essential amino acids plus ten secondary amino acids and notable amounts of the minerals calcium, copper, iron, phosphorus, potassium, silicon and sulphur. Royal Jelly also contains nucleic acid.
Royal Jelly is high in protein and is produced during the digestion of pollen..
Our Royal Jelly is gathered from dry, remote, high desert regions where pristine conditions provide the ideal environment for our beehives. It is extracted from the hive and immediately freeze-dried to remove only the excess water from the product, leaving all vitamins, minerals, enzymes and co-enzymes present.
• One of the most complete foods -
• Easily absorbed and readily digestible -
• No preservatives, artificial colors or flavors -
Now you have two choices to make:
Buy Forever Royal Jelly at Aloe Vera & Forever Living Products Retail Store as a Retail Customer.

Join Forever Living Products for free as a Independent Distributor and buy Forever Royal Jelly at wholesale rates! (BUY DIRECT AND SAVE UP TO 30%)
To join FLP team you will need my Sponsor ID: 001002337815  (Why? Click here!)
---
For more information on
Forever Royal Jelly
refer to the PDF downloads.
ForeverRoyalJelly_ver.5.pdf
royal jelly forever
,
5 sentences about honeybee
,
royal jelly distributor
,
acid
,
jelly aloe vera
,
protein
,
Aloe Ver
,
aloe vera royal jelly
,
forever living products bee products
,
several
Go to
Aloe Vera
- Home Page.
---
Keep up to date on
Aloe Vera and FLP issues
using RSS (Really Simple Syndication). If you enjoyed this post, make sure you subscribe to Our RSS feed!
Possibly Related Posts and Articles (automatically generated)
Loading ...

Please leave us a review or comment, we value them.