Forever Ginkgo Plus. Increase your memory with Ginkgo!

2012 products design: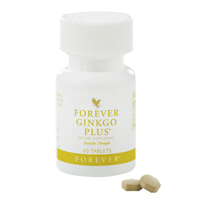 Item #073 – 22.95 USD
Price per unit – 60 Tablets – 9 per case
Forever Ginkgo Plus
Feed your creativity with Ginkgo Biloba the legendary "brain tonic" dating back five millennia. Forever Ginkgo Plus is a unique blend of four Chinese plants.
Ginkgo Biloba leaf extract, its chief ingredient, is combined with the powerful Chinese herbs of Ganoderma from Reishi mushrooms; Schisandra berries and cured Fo-ti… The ginkgo tree is said to be the oldest surviving tree species.  They live incredibly long (often over 1,000 years), and are extremely resistant to fungi and insects. Ginkgo Biloba is one of the most popular herbal  supplements available in Europe and North America. Extract from the ginkgo leaf yields flavonoids and terpenoids which strengthen capillaries. They also act as antioxidants. Ginkgo has been shown to increase circulation of blood to the brain and making it a remarkable "brain tonic."
Note: Forever Ginkgo Plus is not recommended for use during pregnancy or lactation, nor for children under 6 years of age.
INGREDIENTS Forever Ginkgo Plus: Microcrystalline Cellulose, Tricalcium Phosphate, Cellulose, Stearic Acid, Croscarmellose Sodium, Magnesium Stearate.
60 tablets

- Take one tablet, twice daily.
Forever Ginkgo Plus – A remarkable "brain tonic" that enhances blood supply to the brain, boosts energy and helps support circulation.
* Enhances blood supply to the brain -
* Helps support circulation -
* Energy level booster -
* Includes tonic herbs to boost the benefits of ginkgo -
* 50:1 leaf-to-extract ratio -
Now, you have two choices to make:
Buy Forever Ginkgo Plus at Aloe Vera & Forever Living Products Retail Store as a Retail Customer.
Join Forever Living Products for free as a Independent Distributor and buy Forever Ginkgo Plus at wholesale rates! (BUY DIRECT AND SAVE UP TO 30%)
To join FLP team you will need my Sponsor ID: 001002337815  (Why? Click here!)
For additional Forever Ginkgo Plus information and ingredients, select the PDF link below.
Loading ...

Please leave us a review or comment, we value them.