Forever Kids. Multivitamins for Kids. Help them…

2012 products design: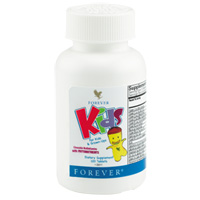 Item #354 – 9.95 USD
Price per unit – 120 Tablets – 18 per case
Forever Kids ® (Kids Multivitamins)
Give your kids the nutrients they need each day with Forever Kids Chewable Multivitamins. These fun and delicious multivitamins provide both adults and growing kids ages two and olderwith the vital vitamins, minerals and phytonutrients they may be lacking.
Phytonutrients are highly desirable plant nutrients found in vegetables and fruits.New processing techniques allow us to emulsify, dehydrate and flash-dry raw fruits and vegetables – to protect the valuable phytonutrients; vitamins; minerals and enzymes our bodies need.  The result is a multivitamin that tastes great, is fun to eat and complements the range of other supplements that Forever Living offers!!!!
Formulated without sugar, aspartame, artificial colors or preservatives, the phytonutrient base is taken from such nutritious foods as carrots, acerola, broccoli, spinach, cabbage, apples, cranberries, tomatoes and citrus fruit.
You and your kids will love the natural orange and grape flavors, and you'll love the peace of mind!
INGREDIENTS of Forever Kids: Sorbitol, Xylitol, Polyethylene Glycol, Stearic Acid, Natural Blue Color, Silicon Dioxide, Natural Orange Color, Natural Orange and Grape Flavors, Magnesium Stearate, Natural Flavor Enhancer, Citric Acid, Ethyl Cellulose, Guar Gum.
120 tablets.
- For adults and children over four, take four tablets daily as a dietary supplement. For children two to four years old, give two tablets per day under adult supervision.
Forever Kids – Provide both adults and growing kids ages two and older with the vital vitamins, minerals and phytonutrients they may be lacking.
* No artificial colors or preservatives
* Fun colors and shapes that your kids will love!
* Chewable tablets
* Phytonutrient base taken from the finest raw foods including broccoli, spinach, carrots and cabbage
Now you have two choices to make:
Buy Forever Kids Multivitamins at Aloe Vera & Forever Living Products Retail Store as a Retail Customer.
Join Forever Living Products for free as a Independent Distributor and buy Forever Kids Multivitamins at wholesale rates! (BUY DIRECT AND SAVE UP TO 30%)
To join FLP team you will need my Sponsor ID: 001002337815  (Why? Click here!)
For additional Forever Kids Multivitamins information and ingredients, select the PDF link below.
Loading ...

Please leave us a review or comment, we value them.