Forever Nature-Min. Best Nutrition solution!
2012 products design: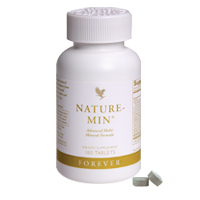 Item #037 – 14.25 USD
Price per unit – 180 tablets – 12 per case
Forever Nature-Min®
Your body can benefit from nutrients locked deep in an ancient seabed because four percent of our body weight is comprised of these minerals.  Since our bodies can't manufacture minerals,we have to obtain them from our food or supplementation.  Forever Nature-Min is an advanced, multi-mineral formula using new bio-available forms of minerals for maximum absorption.It provides minerals and trace minerals in a perfectly balancedratio for maximum efficiency.Using a mineral base of natural seabed deposits and chelated marine plants and animals, Forever Nature-Min provides most of the minerals found in the human body.  Minerals in the body perform three functions – :
1… Some, like calcium, phosphorus and magnesium, are constituents of the bones and teeth.
2… Others are soluble salts that help to control the composition of body fluids and cells.
3… Minerals, such as iron and hemoglobin, perform other vital tasks. They work with enzymes and proteins, which are necessary for releasing and utilizing energy.  Forever Nature-Min is an excellent way to ensure that your body is getting the minerals and traceminerals it needs to meet the demands of a healthy and balanced lifestyle.
INGREDIENTS in Forever Nature-Min: Natural Sea Mineral Deposit, Croscarmellose Sodium, Stearic Acid. CONTAINS SHELLFISH.
180 tablets
Forever Nature-Min – Provides most of the minerals found in the human body – including calcium and phosphorus and magnesium – in balanced proportions.
- Take six tablets daily.
* Contains trace minerals from natural sea bed deposit
* Perfect blend of minerals in each tablet
* Minerals play many roles in the human body, from regulating fluid balance to activating genes and hormones
Now you have two choices to make:
Buy Forever Nature-Min at Aloe Vera & Forever Living Products Retail Store as a Retail Customer.
Join Forever Living Products for free as a Independent Distributor and buy Forever Nature-Min at wholesale rates! (BUY DIRECT AND SAVE UP TO 30%)
To join FLP team you will need my Sponsor ID: 001002337815  (Why? Click here!)
For additional Forever Nature-Min information and ingredients, select the PDF link below.
Loading ...

Please leave us a review or comment, we value them.