Forever Active HA. Health & Nutrition & Forever Active HA.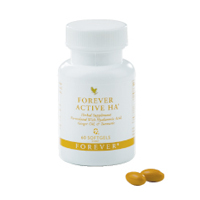 Item #264 – 25.65 USD
Price per unit – 60 Softgels – 12 per case
Forever Active HA:
Forever Active HA provides a unique form of low molecular weight hyaluronic acid,with moisturizing and lubricating properties plus Ginger Oil, and Turmeric,¬ making it one of the most powerful nutritional joint and skin moisturizing supplements on the market.
HA (Hyaluronic Acid) is a special protein that our bodies produce to lubricate and cushion our joints and muscles,  as well as to insure adequate skin hydration.As we age, our bodies produce less and less HA (Hyaluronic Acid). With less Hyaluronic Acid, our joints can lose their natural lubrication,and our skin appears rough and dry.
Until recently, HA (Hyaluronic Acid) had to be injected because the digestive system could not absorb it in its natural state; but thanks to the Injuv® process, Hyaluronic Acid may now be consumed orally.And for centuries, Chinese herbalists have used Ginger and Turmeric to help promote proper joint function.
With low molecular weight HA(Hyaluronic Acid), plus the power of Ginger Oil and Turmeric, Forever Active HA is your key to becoming a well-oiled machine again!
• Lubricates the joints and moisturizes skin !
• Unique form of low molecular weight hyaluronic acid !
• Contains beneficial ginger and turmeric root for the joints !
Forever Active HA gives your body the natural lubricants it needs to maintain healthy joints and soft skin.
Now you have two choices to make:
Buy Forever Active HA
at Aloe Vera & Forever Living Products Retail Store as a Retail Customer.
Join Forever Living Products for free as a Independent Distributor and buy Forever Active HA at wholesale rates! (BUY DIRECT AND SAVE UP TO 30%)
To join FLP team you will need my Sponsor ID: 001002337815  (Why? Click here!)
For additional Forever Active HA information and ingredients, select the PDF link below.
Loading ...

Please leave us a review or comment, we value them.