Shop now! Forever Lite – Vanilla Delight. Buy Forever Lite – Vanilla Delight.
2012 Forever Lite Ultra® with Aminotein – Chocolate design: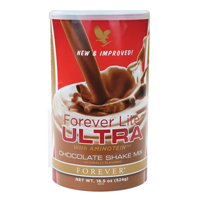 Forever Lite® – Vanilla Delight
For a meal on the go, whether you're looking to lose weight, gain muscle or just need an energetic boost, reach for Forever Lite Nutritional Diet Program. Mixed with milk or your favorite fruit juice, Forever Lite delivers a nutritious kick of vitamins, minerals, proteins and carbohydrates. Rich in proteins for bodybuilding,growth and repair, two shakes a day provide 100% of the RDI of vitamins and minerals. Each shake contains 18 amino acids (including all 8 essential ones) and trace elements including iron, selenium, chromium and iodine, providing you with soluble and insoluble fiber.To protect against free radicals, we've added antioxidant Beta Carotene and vitamins A and E, and used the natural fruit sugar fructose, instead of sugar or aspartame. Forever Lite is available in two delicious flavors – chocolate and vanilla.
Mixed with low-fat milk, soy milk or fruit juice, a Forever Lite shake can be a healthy, tasty way to manage your weight. If used as a meal replacement, eat at least one nutritiously complete, low-calorie meal a day, including fresh fruit, vegetables, whole grains and lean protein.
Forever Lite Vanilla Ingredient: Forever Living Protein Blend (Consisting of Soy Protein Isolate, Calcium Caseinate, and Whey), Fructose, Cellulose Gel and Cellulose Gum, Soy Lecithin, Calcium Phosphate, Magnesium Oxide, Natural and Artificial Flavors, Soybean Oil, Carrageenan, Pectin, Ascorbic Acid, Ferrous Fumarate, Brewer's Yeast, Guar Gum, D-Alpha Tocopheryl Acetate, Niacinamide, Zinc Oxide, Calcium Pantothenate, Vitamin A Palmitate, Copper Sulfate, Bromelain, Pyridoxine Hydrochloride, Riboflavin, Thiamine Hydrochloride, Vitamin D3, Folic Acid, Biotin, Potassium Iodide, Beta Carotene, GTF Chromium Yeast, Selenium Yeast, Spirulina, Cyanocobalamin. CONTAINS MILK AND SOY.
18.5 oz (525g) – approximately 21 servings per can
- Shake can before each use. Blend or mix 1 level scoop (25g) with 10 oz. of low-fat milk or fruit juice.
* Two shakes provide 100% RDI of the vitamins and minerals stated
* Healthy snack or meal replacement
* Provides the perfect balance of protein and carbohydrates
Now you have two choices to make:
Buy Forever Lite – Vanilla Delight at Aloe Vera & Forever Living Products Retail Store as a Retail Customer.
Join Forever Living Products for free as a Independent Distributor and buy Forever Lite – Vanilla Delight at wholesale rates! (BUY DIRECT AND SAVE UP TO 30%) To join FLP team you will need my Sponsor ID: 001002337815 (Why? Click here!)
For more information on Forever Lite – Vanilla Delight refer to the PDF downloads:
Loading ...

Please leave us a review or comment, we value them.